5 Best Rockers & Gliders of 2021
Simple, minimalist, and efficient gadgets that make life as a parent a bit easier and stylish.
Did you know the average baby is rocked over 1 million times in the first year of their little lives? With all that time rocking your little one, it's important that you find the perfect rocker that suits your needs, so you can enjoy every precious moment. There are so many different chairs and products on the market and they all have something different to offer. In this guide, we will share the best rockers and gliders out there, so you can choose the best for you and your baby.
Best Overall Rocker: Ready Rocker

Number one on the list is the "Best New Baby Product" and award-winning portable invention, the
Ready Rocker
.
Precision engineered to last beyond a million rocks, the Ready Rocker provides amazing support and the perfect rock while reducing strain on the back and joints. With the simple twist of a dial, it has 10 adjustable rock levels to choose from and it is made of quality, durable materials that are stain-resistant.
Ideal for travel, the Ready Rocker is the perfect rocking solution that allows both you and your baby to stay calm and relaxed anytime, anywhere. Brothers, sisters, and even grandparents can benefit from this product as its innovative patented design was created for every member of the family.
Regarded on ABC as "game-changer" and "very cool" on Ellen, the Ready Rocker turns any chair or surface into a rocker. With its lightweight design, weighing in at less than a gallon of milk, the Ready Rocker is our top pick for parents who are always on the go or traveling. Made from durable and easy to clean materials, the Ready Rocker is the most important revolution to rocking since the rocking chair itself. For a super long-lasting effect (and overall parent style) we suggest getting a travel bag to help carry your rocker. Equipped with a wide zipper compartment and a backpack strap for easy carrying, this bag is a must-have for expecting parents.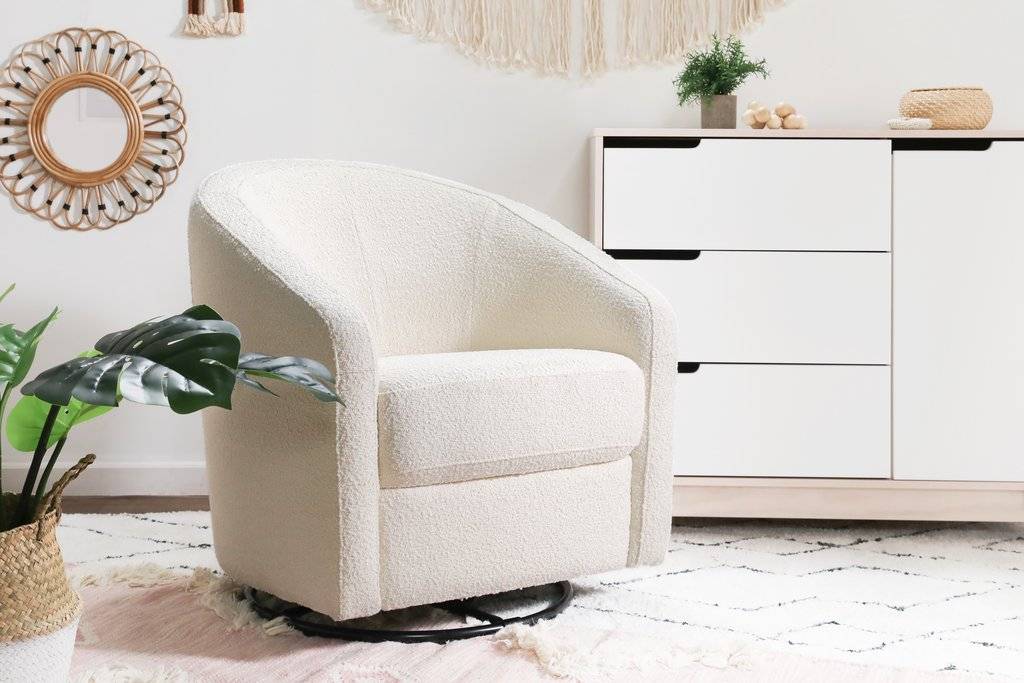 Upholstered by hand in luxuriously soft velvet, the classic mid-century curves of the
Babyletto's Madison Swivel Glider
will add beautiful comfort during the nursery years and beyond. The softly rounded back and spacious seat make for heavenly cuddling while the metal swivel mechanism base allows you to turn and glide a full 360°. The low back and clean, modern lines of this glider make it an ideal choice for any modern nursery. And the chair is made from a water and stain-resistant microsuede that's durable and easy to clean.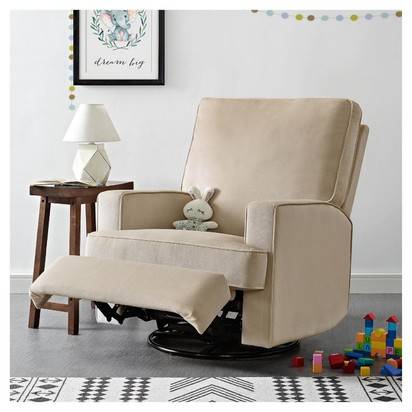 The clean lines and sleek style of the
Baby Relax Addison Swivel Gliding Recliner
will add a contemporary touch to your nursery. A streamlined silhouette, comfortable track arms, and soft cushion back make the Addison ideal for feeding, bonding, and rocking your baby to sleep. It offers a 360-degree swivel and multiple position recline options. Bonus point, hardware for the recline sliding mechanism is hidden to ensure that tiny fingers don't get caught in any of the relaxing actions.
The combination of classic style, sink-in comfort, and velvet-like twill fabric make this recliner a wonderful choice for your nursery today and for any room in your home in the future.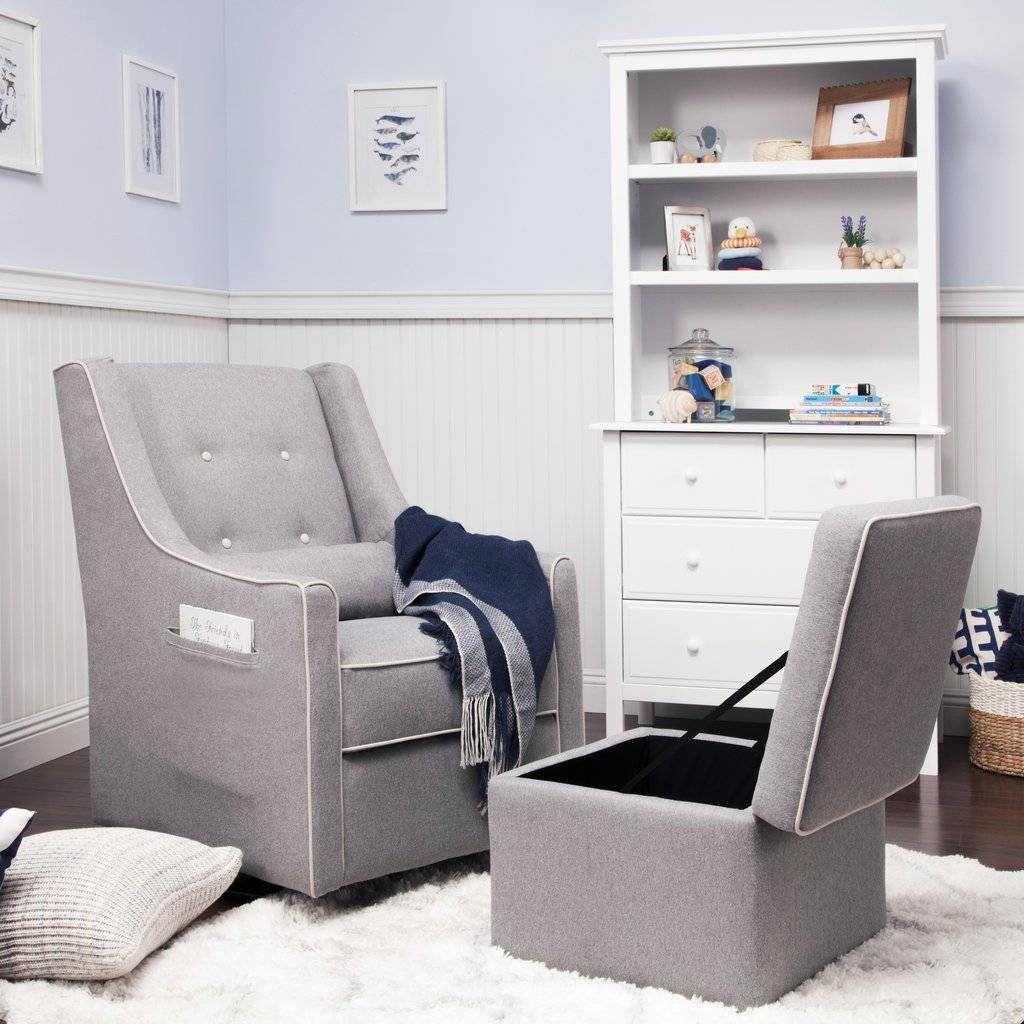 The plush wingback style
Owen Glider and Ottoman
features streamlined piping and button tufting for a cushioned back surface through every feeding. It glides forwards and backward as well as swivels for easy movement. The upholstered ottoman is included with a removable bin top for extra hidden storage needs. The fabric is soft and durable, and you can glide in every direction in this nursing chair with 360-degree swivel motion. The chair is large, measuring just over three feet wide, and almost 29 inches deep and 39 inches high.
Comfort and storage altogether in a beautiful and minimalistic design, perfect for any room and ideal for an excellent bonding time with your newborn.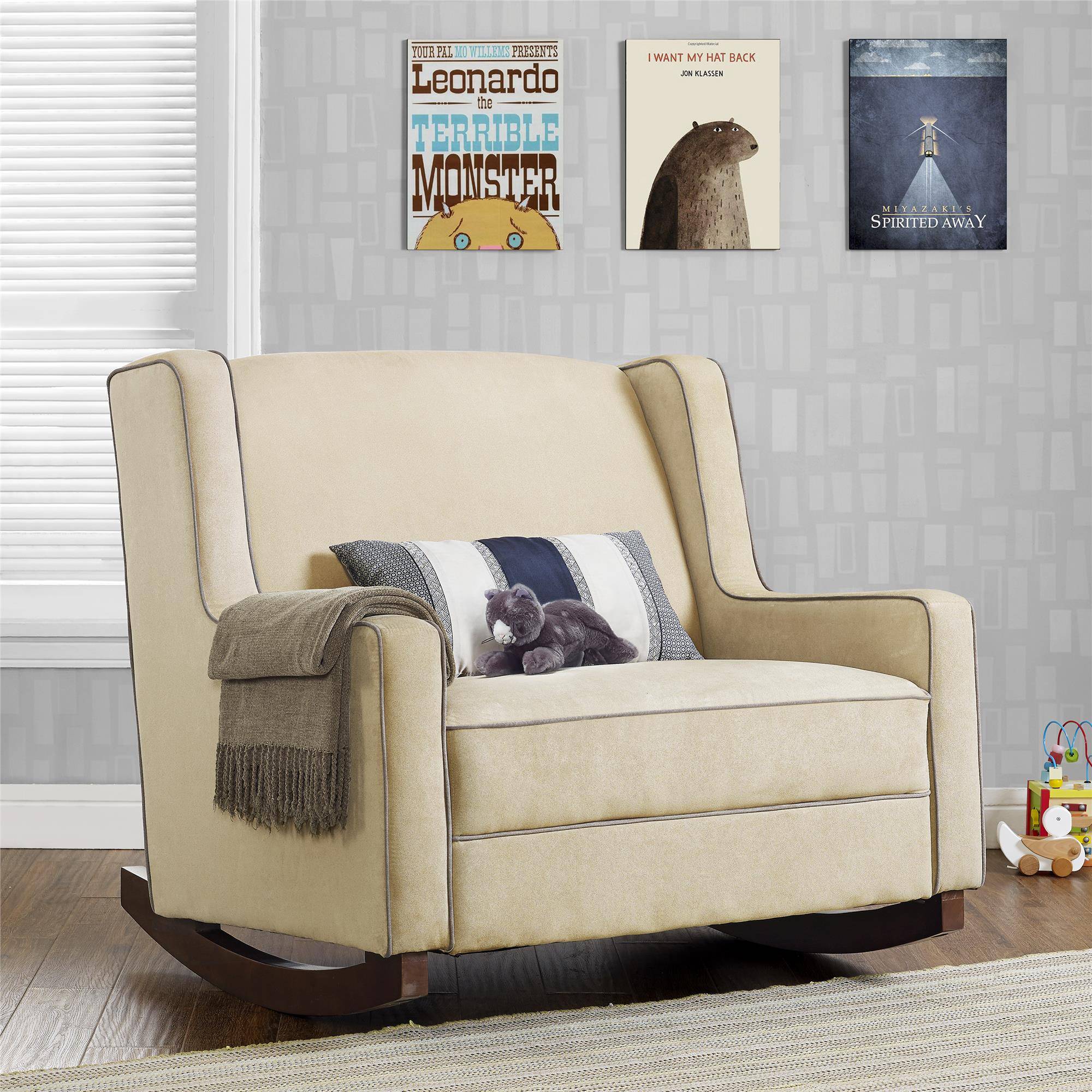 We know that having a kid is a game-changer, and having two at the same time automatically classifies you as an Avenger. For parents expecting multiple children at once, the
Baby Relax Hadley Double Rocker
brings unrivaled comfort to a whole new level. Exactly one and a half times wider than a standard rocker, the Hadley is ideal for feedings, story-time, or just savoring those beautiful quiet moments with your growing family.
Featuring sturdy construction and solid wood rocker feet, this rocker is sure to last through years of building memories with your loved ones. The fabric and two-toned welting give this piece an upscale look that promises to complement the décors of any style. The Hadley is plush and comfortable thanks to its thickly padded seat cushions and seatback.
After reading this guide you might already have an idea of what to buy, but if not, we advise you to take into account five key considerations: size, durability, comfort, convenience, and cost. If you happen to be a person who travels a lot or want the freedom to rock anytime, anywhere, the
Ready Rocker
is the go-to choice for you. For minimalistic and simple caregivers, any of the gliders listed above will decorate and expertly do the job. Whatever item you choose, we guarantee that you will have an amazing and memorable bonding time with your baby.
Prev
Next
Previous: Enter To Win Over $200 in Prizes!
Next: "Best Glider for Travel" by What To Expect