Ready Rocker 3.0 - Slate
New Release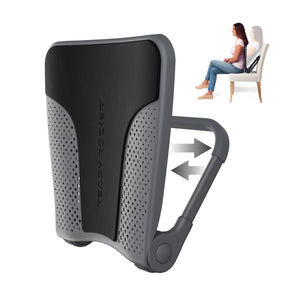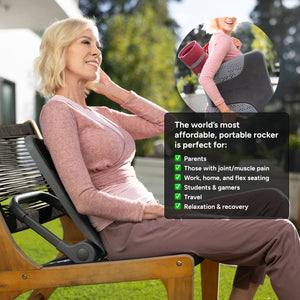 PRODUCT OVERVIEW
Invented by first-time parents, the Ready Rocker is the world's first patented, portable rocker that instantly converts almost anything (bed, sofa, chair, bench) into a rocker. The award-winning invention has revolutionized the way the world rocks. The ergonomic design and soft, high-performance foam deliver comfort and lumbar support, taking pressure off your back and joints. Featuring 2 rocking positions for deep AND shallow seating, the Ready Rocker 3.0 is the perfect fit whether you are in your bed, living room, office, or traveling and on-the-go. Get your daily dose of rocking health benefits that can help you: relieve back pain, soothe/nurse baby, relax, de-stress, calm anxiety, improve sleep, and feel better! Rock anytime, anywhere - it's rocking, reinvented.®
Product Specs
Features
Two Rocking Positions

Allows you to rock in both shallow AND deep seating.

Soft & Safe EVA Foam

Provides comfort while rocking
Maintains its shape & supports your back

Padded Prop Bar Cover

Safely grips and guards furniture and walls

Care

Clean with mild soap and water. Wipe clean with a clean cloth.
Size
Dimensions

Height: 18"
Width: 17"
Depth: 3.5"

Weight
"GAME-CHANGER"
"THIS MIGHT BE MY ALL-TIME FAVORITE ITEM"
"IT'S GENIUS"
"WOW, THAT'S REALLY COOL - LOVE"
"I KNOW, VERY COOL"
KRIS JENNER & ELLEN
"DOES IT GET ANY BETTER
THAN THIS?"
"IT'S AN EXCELLENT OPTION FOR TRAVEL…IT'S VERSATILE, TOO; USE IT WITH ALMOST ANY TYPE OF CHAIR"
"THANK GOD IS ALL I CAN SAY"
"THIS INGENIOUS DEVICE TURNS ANYTHING INTO A ROCKER"